Install Premium, Energy-Efficient Windows
Elevate your home's design with stunning windows. We install hundreds of windows of all shapes and sizes by top manufacturers Anlin, Soft-Lite, Marvin, and Alside.
You can get a window from anybody, but what makes a window great is the installation. Does it fit perfectly? Does it achieve what you're looking for? With decades of experience and first-rate reviews, you can count on us to install your windows so that they live up to the manufacturer's highest specifications.
We Offer Vinyl, Fiberglass and Wood Windows
No matter what size, shape or function you have in mind, we can almost certainly find the perfect window for you.
We are not a large multi-state corporation, and we are not brand specific. We work with each customer individually and will guide you towards the manufacturer, style, and possibilities that best suit your vision.
For vinyl windows, we recommend Anlin, Soft-Lite, and Alside.
Anlin windows are manufactured on the West Coast. This makes their windows affordable to access and safe to transport without any damage. (Long freight trips over mountains can damage the integrity of your glass, so we avoid this.)
Anlin meets the world's stricter manufacturing standards set by California. To back this up even further, they offer a lifetime warranty that is fully transferable to the next homeowner. The comprehensive warrantee includes service, parts, and even glass breakage.
Soft-Lite windows are another great option. Like Anlin, their windows meet high quality standards including sound-proofing, triple-pane, and weather resistance.
If you're looking for economy, Alside windows offer great selection, innovative designs and quality craftsmanship at a lower cost.
For fiberglass or wood windows, we recommend Marvin.
Marvin makes high-integrity, high-performance, durable windows with beautiful detail and lots of room for customization.
We Install a Vast Variety of Windows
Slider windows are great for giving airflow to tight spaces.
Sliding windows can be single, double or even triple.
A single slider will have two sashes. One will remain stationery while you can move ht other left or right.
A double sider will have two sashes, but in this case you can move both to create ventilation from both sides. This is a fantastic option for Colorado since our weather can change at a moment's notice.
A triple slider will have three sashes with the outer two able to move inward. This is a great option for larger openings where you want extra ventilation.
Why Colorado Classic Exteriors?
We lay tarp. We take care to remove old windows carefully so as not to damage your house.
(Most) everyone does that! Here are a few things we do differently….
We leave the label on the track.
We leave the label on until you've inspected your windows. Why? We've repeatedly discovered that other companies have misrepresented what windows they've installed for clients. When you pay for a premium quality window, you deserve to know without any doubt that you've received what you paid
for.
We ensure there are no gaps in your insulation.
If your window isn't installed properly, it will never perform as the manufacturer advertises. We make sure your window is cut perfectly so as not to leave any gaps between your wall and your window. While installing windows, we've encountered numerous instances where the original home builder mis-measured but covered up their mistakes. You can visually hide mistakes, but your window's performance will always suffer.
Replacement windows are custom made to fit your house's openings and we make sure to get a proper fit every time. We achieve this by measuring twice: once when your project lead conducts a job inspection and again by a Final Measure Technician before ordering parts or installing your window. Our Final Measure Techs undergo a rigorous training and certification process, not only to comply with AAMA guidelines but also to meet our founder's exacting standards.
Get Top Brands in Your Home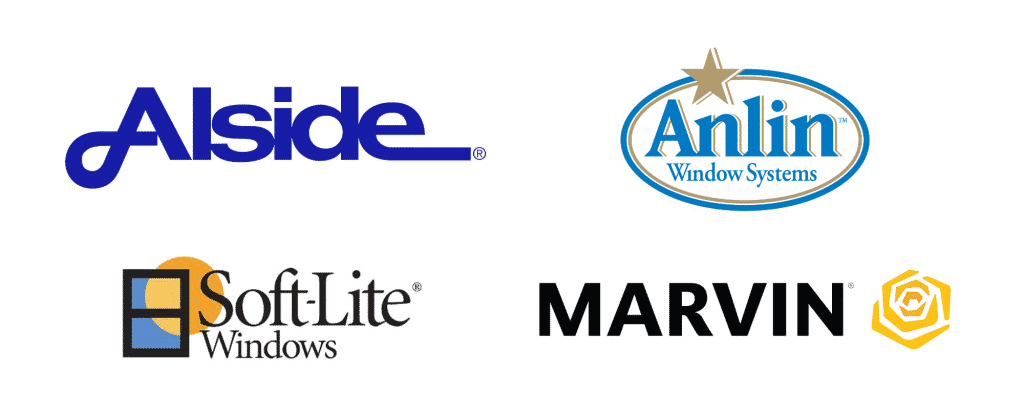 Our Customers Love Their New Windows!
Whether you're going for a new look, soundproofing, or higher energy efficiency, we know you'll love your new windows.
Getting the right windows is only have the picture. Installing them properly is absolutely required for you to get the most out of them. We're committed to giving you the top quality installation possible. That's why we don't just use only AAMA certified installers. We also make sure to give our installers the time needed to perfect every installation.