When was the last time you expanded your outdoor living space?
Your vision should include relaxing with a book, having a barbecue with your friends, celebrating moments and family time all with the protection from the sun, rain or snow.
Your pergola will set your home apart with style and elegance.
We'll listen to your vision and design your dream outdoor living space. You can create something that will last without having to maintain it year after year. 
Let's set you apart from the rest and put your vision into reality.
Aluminum Patio Covers have a unique aluminum composition that offers comfort, peace of mind, and long-lasting durability.
Enjoy all the benefits of a traditional wood patio cover with little to no maintenance, complete weather and insect resistance, and unsurpassed durability. With aluminum Patio Covers, rest assured that your investment will not only look great and add visual appeal to your home but will also stand the test of time.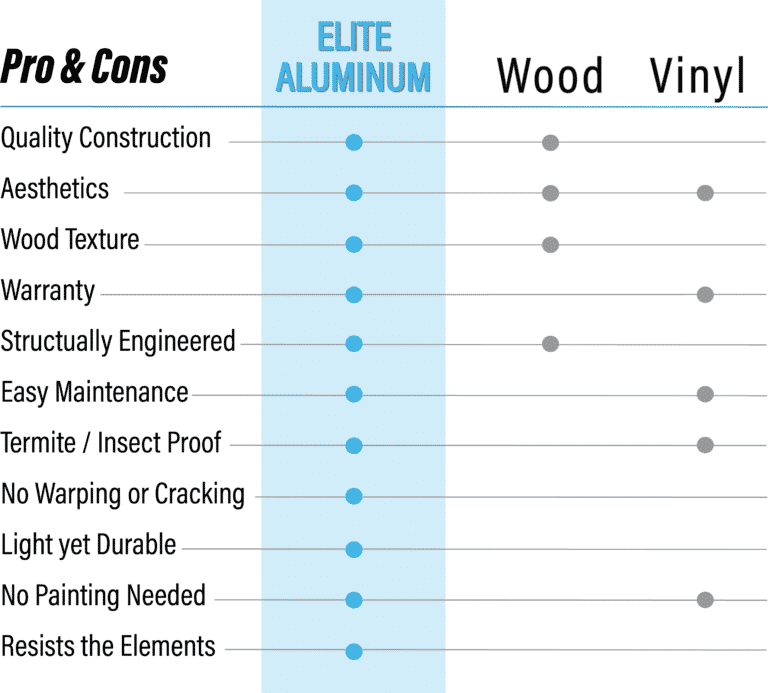 Wood fails over time, even with frequent maintenance time takes its course and wood will need to be replaced.  
Vinyl cannot match Aluminum or wood in regards to strength. Over time vinyl will sag and lose its luster and it will be time to replace the vinyl cover.
The warmth of wood, the easy maintenance of a vinyl product and because aluminum will not rust the cover will outlast wood or vinyl by a long shot.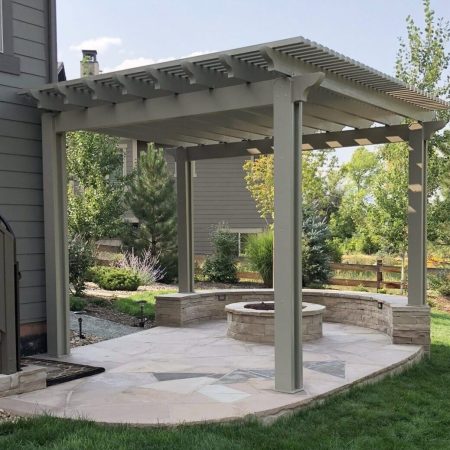 Lattice Pergola
Sun & Shade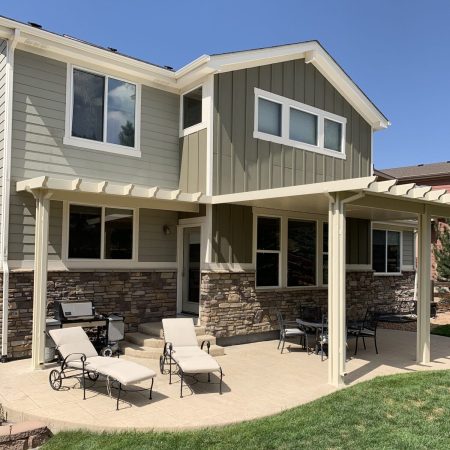 Solid Patio Cover
Sun Protection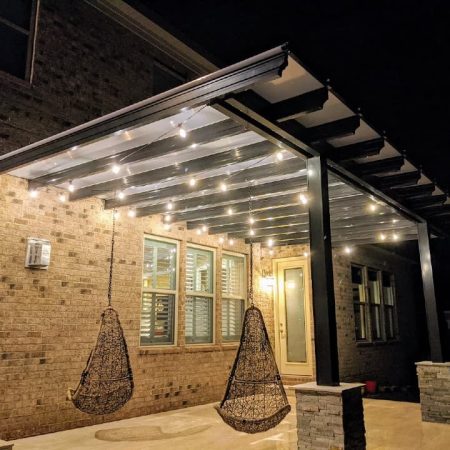 Transparent Roof
Sun & Protection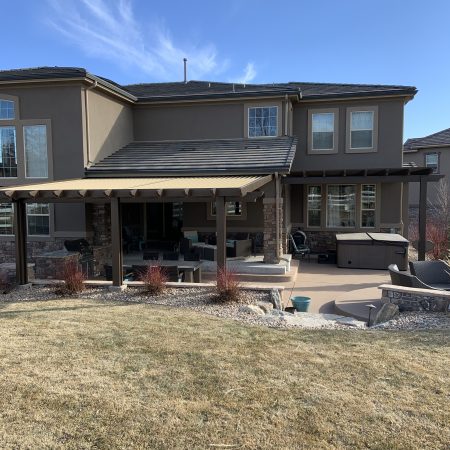 Combination Roofs
Best of both
Use our Estimating Tool to build your pergola or patio cover of your dreams. 
We install beautiful Shade Structures that offer two distinct styles that allow you to find the balance of style and comfort right for your home.
Lattice style lends an air of sophistication and charm to your home's exterior, and helps you reduce your exposure to the sun by 40-60% without screening out refreshing breezes.
Solid Roof  Patio shade structures provide you and your family with maximum protection. It's a perfect choice when you want an outdoor living area shielded from the sun, rain, snow or other elements.
Our shade structure gives you:
Heavy header-beam construction
Richly textured wood finish
Seven popular designer colors
Durable Aluma-ShieldSM paint system with TEFLON® for long-term gloss retention
Fasteners in matching colors
Recessed lighting system option by LightStrip®
Four style options for beam and rafter end cuts
Patented Gutter Guard system to prevent debris build up in your structure's gutters
SEE WHAT OTHERS HAVE TO SAY...
"In only five days, CCE replaced ten of our old steel casement windows with new high efficiency windows, installed a new storm door, and a back door! Not only that, they installed a sliding patio door where a dining room window was, plus a pergola, and it all looks fantastic! We are so happy with the results. Everyone was professional and extremely knowledgeable. We highly recommend CCW!"
"Preston and James installed a new patio cover, half pergola, half fully covered, in April 2017. Their design and our vision turned out beautifully! They were extremely professional, courteous, and conscientious, making sure our dog didn't get out of the yard, and cleaning the patio at the end of each day. We like supporting small, local businesses, and Sherry and Preston are gracious and very professional."
"Everyone at Colorado Classic Exteriors was a pleasure to work with. From the consult (with transparent fair pricing) through the install, our new friends from Colorado Classic Exteriors will have our business and validation for life."